Move/rename file flow function - relative file path
complete
When using the "Relative target path" to rename the file, the module adds to the folder name to the file name...
E.g. Camera module outputs file to cache/Camera folder. Renaming it to Filename.jpg results in getting a file called CameraFilename.jpg in cache folder.
to have it work correctly I needed to add "/" - "/Filneame.jpg"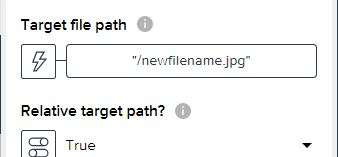 H
marked this post as
complete
H
marked this post as
planned